CELEBRATE SPRING AT FRANK'S HILL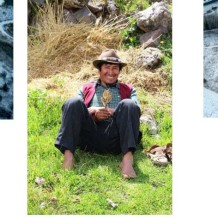 Bid farewell to winter and welcome spring by observing the vernal equinox amongst the ancient effigy mounds at Frank's Hill near Muscoda. On Sunday, March 20th spring. Persons wishing to attend should gather at Frank's Hill by 6:30 p.m. The site will be open to the public on Saturday  and Sunday for self-guided tours of the mounds and for anyone who wishes to view the sunrise.
In addition, a special ceremony will be conducted on Sunday afternoon at 3:00. A medicine man from Peru, Adolfo Ttito Condori, will conduct a traditional despacho ceremony. Through an interpreter, he will explain the tradition and purpose of the sacred offering known as Despacho. Condori also will share his impression of the mounds at Frank's Hill. Participants should arrive by 2:45 p.m. for the despacho ceremony and should bring chairs or blankets for seating as well as  snacks or beverages. Dress warmly and consider bringing a gift of flowers, such as carnations, for the ceremony.
The events are subject to suitable weather conditions. A short hike will be required to the top of the hill that offers a stunning view of the lower Wisconsin River valley. The site is located 2 miles west of Muscoda near the intersection of Hwy. 60 and Hwy. 193.
Frank's Hill is on the National Register of Historic Places. A group of unique effigy mounds is situated on the East Ridge where the event will occur, which looks across to the west ridge where a line of small mounds, thought to be calendar mounds, is situated. The site offers a panoramic vista of the area which once contained the highest concentration of bird effigy mounds found anywhere in the world, including the remnants of the giant Ghost Eagle mound with a wingspan of over 1⁄4 mile. The mounds are thought to have been built a thousand or more years ago.
To learn more about the equinox events or for directions, contact Dave Martin at (608) 739-4198., people will gather to observe the first official sunset of